Chesapeake Bay Retriever

AM/Can CH* Redlion's What Do You Think, CBPIG, JH, WDX – "Thinker"
OFA EL4076, OFA EYE1490/2022-44, All clear for PRA, DM, EIC, EDSF and Long Coat, OFA ACA67 Echo clear, DOB 2-23-19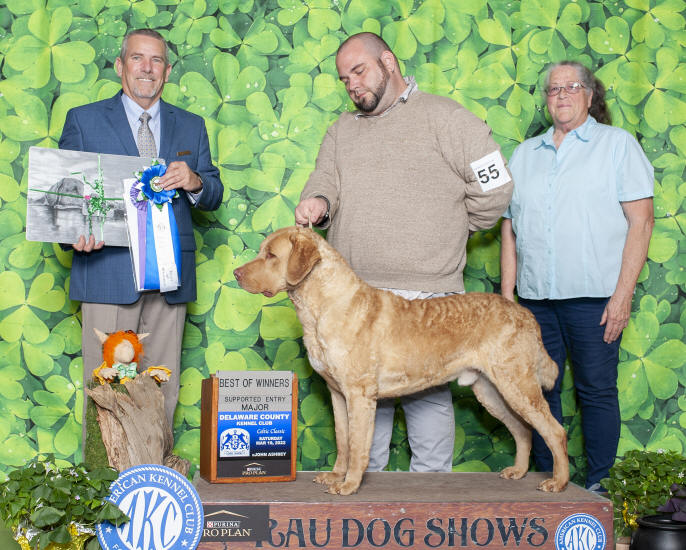 Sire: CH Redlion's Come Back Hudson
Dam: Am GCHB*, CBISS, Can GCH*, UKC BIS/CH*, Redlion's For What It's Worth, JH
Breeder/Owners: Jane Pappler and Darren Sausser

View and Print: Thinker's Pedigree

Fee: $1700 A deposit of $400 is due at time of breeding and balance of the stud fee when the puppy(s) are 7 days old and before any paperwork is signed. Two puppies constitutes a litter. If bitch is not pregnant, no additional fee is charged..
"Thinker" is a very easy personality, sweet and very friendly. He has natural instincts for retrieving and is a big water leaper. Thinker got four straight legs to earn his Junior Hunter Title. At 11 months old he won his Canadian Show Championship and finished with a Best of Breed over Specials and a Group 4 plus won the Puppy Sporting Group! He has beautiful conformation and movement. I love this boy and we are excited for his future in shows and the field. His mother "What" was a lovely all-around accomplished Chesapeake in show and a Junior Hunter.
Accomplishments

US Shows
11-16-19 Kennel Club of Philadelphia ACC Supported Show Best of Opposite in Sweeps
11-16-19 Kennel Club of Philadelphia ACC Supported Show WD 5 pts (8 months old)
11-23-19 Windham Co KC, MA ACC Supported Show BOS in Puppy Sweeps
3-19-22 Delaware Co KC, York, PA Winners Dog and Best of Winners for 5 points, American Chesapeake Club Supported Show
3-27-22 Bronx County KC Winners Dog for 2 points
4-30-22 Wilmington KC WD/BW 3 pts NEW Champion
5-1-22 Penn Treaty KC Select Dog 4 pt major towards GCH - first time as a special in Best of Breed competition
12-18-22 Delaware Water Gap KC Best of Breed
Junior Hunter
9-12-20 Westchester RC Newburgh, NY 1st leg for JH
9-19-20 First State RC Greenwood, De 2nd leg
9-20-20 First State RC Greenwood, De 3rd leg
9-26-20 Navesink River RC New Egypt, NJ 4th leg NEW Junior Hunter Title
Canada Shows
12-27-19 Elora Gorge all-breed, Kitchner Ont WD, BP 2 pts
12-27-19 Southwest Ontario Rtvr Specialty WD, BP 2 pts
12-28-19 Ontario Chesapeake Club Specialty WD, BW, BP 3 pts
12-29-19 Elora Gorge Group 1 WD, BW, BP, BOB, Group 4, Best Sporting Puppy in Group New Canadian Champion
12-29-19 Elora Gorge All-breed - moved up to a Special for Breed competition gets BOS, Best Puppy
Field Work
8-24-21 ACC National Specialty - WDX title