Chesapeake Bay Retriever
FOR SALE: TRAINED GUNDOG - "Thinker"

Adult Chesapeake Male, 4 years old. Great temperament, playful, Just finished Senior Hunter title. Trained professionally by Lois Munroe in New Hampshire. Steady, does doubles on land and water, Land and water blinds, honors, good at walk-ups, nice handling of the birds. Continued training and refresher always part of new ownership. Great in the house with people and other animals. Can be used for showing, breeding and continue field work.

Serious Inquiries email: nofleas24@gmail.com
Price: $8500

AM/Can CH* Redlion's What Do You Think, CBPIG, SH, WDX – "Thinker"
OFA EL4076, OFA EYE1490/2022-44, All clear for PRA, DM, EIC, EDSF and Long Coat, OFA ACA67 Echo clear, DOB 2-23-19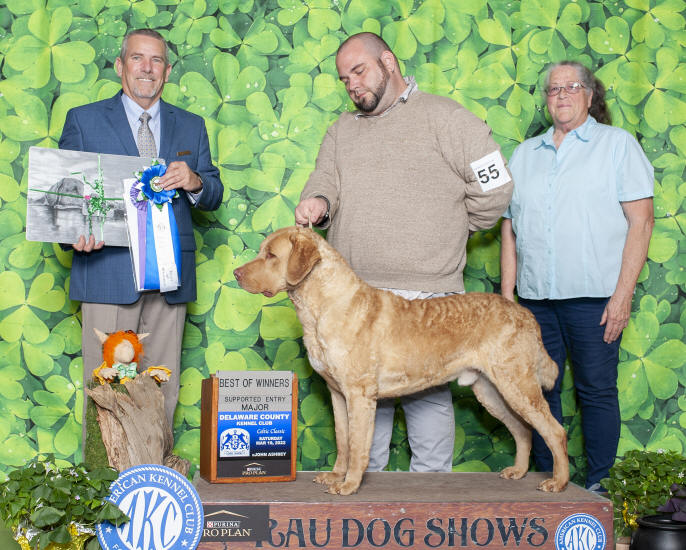 Sire: CH Redlion's Come Back Hudson (hunting dog with two legs on MH title)
Dam: Am GCHB*, CBISS, Can GCH*, UKC BIS/CH*, Redlion's For What It's Worth, JH
Breeder/Owners: Jane Pappler and Darren Sausser
| | |
| --- | --- |
| Thinker's sire - "Hudson" | Thinker's Mother - "What: |
View and Print: Thinker's Pedigree

Breeding Stud Fee: $1800 A deposit of $400 is due at time of breeding and balance of the stud fee when the puppy(s) are 7 days old and before any paperwork is signed. Two puppies constitutes a litter. If bitch is not pregnant, no additional fee is charged..
"Thinker" is a very easy personality, sweet and very friendly. He has natural instincts for retrieving and is a big water leaper. Thinker got four straight legs to earn his Junior Hunter Title. At 11 months old he won his Canadian Show Championship and finished with a Best of Breed over Specials and a Group 4 plus won the Puppy Sporting Group! He has beautiful conformation and movement. April, 2023, he finished his Senior Hunter title. His mother "What" was a lovely all-around accomplished Chesapeake in show and a Junior Hunter.
Accomplishments

US Shows
11-16-19 Kennel Club of Philadelphia ACC Supported Show Best of Opposite in Sweeps
11-16-19 Kennel Club of Philadelphia ACC Supported Show WD 5 pts (8 months old)
11-23-19 Windham Co KC, MA ACC Supported Show BOS in Puppy Sweeps
3-19-22 Delaware Co KC, York, PA Winners Dog and Best of Winners for 5 points, American Chesapeake Club Supported Show
3-27-22 Bronx County KC Winners Dog for 2 points
4-30-22 Wilmington KC WD/BW 3 pts NEW Champion
5-1-22 Penn Treaty KC Select Dog 4 pt major towards GCH - first time as a special in Best of Breed competition
12-18-22 Delaware Water Gap KC Best of Breed
Junior Hunter
9-12-20 Westchester RC Newburgh, NY 1st leg for JH
9-19-20 First State RC Greenwood, De 2nd leg
9-20-20 First State RC Greenwood, De 3rd leg
9-26-20 Navesink River RC New Egypt, NJ 4th leg NEW Junior Hunter Title
Senior Hunter
3-25-23 GA Fall Line RC 1st leg SH
3-26-23 GA Fall Line RC 2nd leg SH
4-15-23 NJ Navesink River Hunting RC 3rd leg SH
4-16-23 NJ Navesink River Hunting RC 4th leg SH NEW Senior Hunter Title

Canada Shows
12-27-19 Elora Gorge all-breed, Kitchner Ont WD, BP 2 pts
12-27-19 Southwest Ontario Rtvr Specialty WD, BP 2 pts
12-28-19 Ontario Chesapeake Club Specialty WD, BW, BP 3 pts
12-29-19 Elora Gorge Group 1 WD, BW, BP, BOB, a Sporting Group 4, Best Sporting Puppy in Group New Canadian Champion
12-29-19 Elora Gorge All-breed - moved up to a Special for Breed competition gets BOS, Best Puppy
Chesapeake Club Field Work
8-24-21 ACC National Specialty - WDX title