Labrador Retriever
"Jimmy"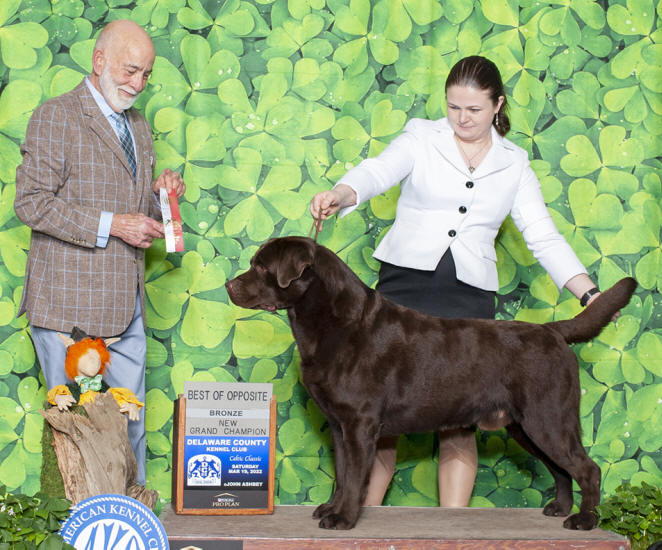 GCHB*, UKC BIS, UKC GCH*, Seminary Ridge's Last Call, RI, TKI, JH, CD, CGC, WC
OFA251079G, OFACA2235, OFA EYE20478/2023-51, OFA PA2606 clear, Clear for CNM, DM, HNPK, RDY, CT, RD/OSD, EIC, PRA, D-Locus
Long Coat clear, Full Dentition, SS09388401, Chocolate Male


Sire: MBOSS GCHB Quailchase Bearcreek Jolly Joe
Dam: Seminary Ridge's Reveille at Belquest CD RN BN JH CGC
Owners: Adair & Steven Toddes, Seminary Ridge Labradors, AKC Breeder of Merit
Gettysburg, PA, abtoddes@comcast.net Cell: 717-357-1237
Breeders: Adair & Steve Toddes, and Vicky Creamer


View and Print Jimmy's Pedigree ---- Print Jimmy's Accomplishments and Clearances

Stud Fee: $1800 A deposit of $400 is due at time of breeding and balance of the stud fee when the puppy(s) are 7 days old and before any paperwork is signed. Two puppies constitutes a litter. If bitch is not pregnant, no additional fee is charged and there is a free re-breeding at the next heat cycle.
In limited showing Jimmy has 22 Best of Breeds, finished 2021 #8 All-Breed, #16 Breed. He is a wonderful companion, active and ready to go on the road and have fun. He loves retrieving and is in training now towards his Senior Hunter title.
NEWS!!
July 30, 2022 In one weekend of UKC shows, Jimmy wins four Best of Breeds, plus two Group 3, and one Group 4.
October, 2022 At the Labrador National, Jimmy won the People's Choice Winner, Dog For All Reasons Award, Top 25 Recognition, Rally Intermediate First and Third, Trick Dog Intermediate title, and two Junior Hunter passes.

AKC Show Accomplishments
2/28/20 and 3/1/20 Maryland Sporting Dog Show, Back to Back Majors, Judges Ainslie Mills, Marla Doheny
4/10/21 Shawnee KC, Judge Wayne Cavanaugh New CHAMPION
5/22/21 Carroll County KC, Judge Ann Roth New GRAND CHAMPION
3/19/22 Delaware County KC, Judge Sam Houston McDonald New BRONZE GCH

Best of Breeds - 22

Group Placements
4/11/21 Sporting Group 2, Shawnee KC, Judge Carol Brown
8/1/21 Sporting Group 4, Bald Eagle KC, Judge Danelle Brown
11/28/21 Sporting Group 4, Catoctin KC, Judge Jan Paulk
TOP Labrador Breed Awards
2021 AKC TopDogs Using Breed Totals - #16
2021 AKC TopDogs Using All-Breed Totals - #8
2021 Labrador Retriever Club - Top 25
2021 Labrador Retriever Club Of The Potomac - TOP 20
2021 Labrador Retriever Club People's Choice Award Winner
2021 LRC Dog for All Reasons Award
UKC Accomplishments
7/27/2019 Obedience Training Class of Harrisburg, Judge Pam Purdue, BEST IN SHOW
8/31/2019 NEW SHOW CHAMPION
2019 TOP TEN Labrador (9th place nationally)
7-29-23 new UKC Grand Champion Title
AKC Performance Titles
2022 AKC Companion Dog (CD)
2022 AKC Rally Novice (RN)
2022 AKC Rally Intermediate (RI) |
2021 AKC Canine Good Citizen (CGC)
2022 AKC Trick Dog Novice (TDN)
2022 AKC Trick Dog Intermediate (TDI)
In the Field
2021 Labrador Retriever Club Working Certificate (WC)
2022 AKC Junior Hunter (JH)
Health Clearances
ADVANCED CARDIAC Sep 20 2020 Normal AO/CONG, AUSC/ECG/ECHO
EYES OFA EYE20478/2023-51 Normal (Cleared annually)
HIPS OFA251079 Good
DENTITION Nov 19 2020 Full Dentition
PATELLA Nov 19 2020 Normal – Practitioner
DNA Tests:
CENTRONUCLEAR MYOPATHY Oct 5 2020 Clear
COPPER TOXICOSIS May 4 2020 Clear and Carries Dampener Mutation
DEGENERATIVE MYELOPATHY May 4 2020 Normal
HEREDITARY NASAL PARAKERATOSIS May 4, 2020 Clear
RETINAL DYSPLASIA /OSD May 4 2020 Normal
Clear By Parentage for: EIC Clear, PRA Clear, D LOCUS Normal, Pure for Chocolate
Jimmy is a once in a lifetime dog. He is easy to live with, perpetually happy, smart and eager to please. Well-known AKC judge/ presenter/author Pat Hastings evaluated Jimmy at 11 months; her comment: "You're going to have fun with this boy!" -- We have! With handlers Rebecca Clas Kirzner and Mikala Nicole Berta (and occasional assists from BFF Rosanne Connelly and Bunny), Jimmy has had an amazing show career: 22 Best of Breeds and finishing in the 2021 Top Twenty. Judges have often complemented on his balance, length of leg, gorgeous head, double coat and lovely movement. Jimmy began his show career with a bang, winning the Sporting Group at his first large all-breed puppy match. At his second AKC show, he took RWD out of the 6-9 puppy class. Also as a puppy, he won Best is Show at his first UKC show. Our last big competition was the Labrador Retriever Club Top 25 Gala in 2022 where Jimmy was The People's Choice Award Winner! We are so very proud of this award. Jimmy loves to show!
Bunny trains Jimmy for all his performance events. Jimmy had 4 straight passes for his Junior Hunter title and is currently training for his Senior Hunter. Jimmy completed his RN and RI titles easily and is training for his RA. He earned his CD right before Christmas 2022. We hope to also earn his CDX in the Fall of 2023. He is the PERFECT training partner.
Jimmy has an exceptional pedigree. He is the third generation of our breeding. His dam, Abby, was the 2018 Labrador Retriever Club of the Potomac Outstanding All-Around Labrador of the Year! His Grand dam, Glory, was our first AKC CH. His sire and grand sires are producers of many AKC Champions. All the dogs (males) in is pedigree are pretty special!!