Chesapeake Bay Retriever
CH Redlion's Fast and Furious Neptune, JH - "Neptune"

OFA11251F, OFA EL2911, OFA EYE730/2018-40, OFA CA323, PRA-A, DM clear, EIC clear by parentage
EDSF clear by parentage, Long Coat clear, DOB 10-6-14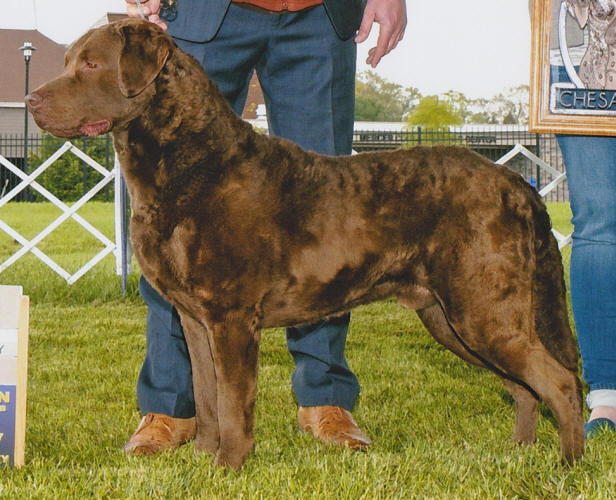 Neptune is now residing in Watkins, Minnesota and is available there for breeding
Contact Jane Pappler nofleas24@gmail.com


Sire: HRCH Redlion's Big Jake, MH
Dam: Redlion's Dakota Bear View and Print Neptune's Pedigree

Fee: $1600 A deposit of $300 is due at time of breeding and balance of the stud fee when the puppy(s) are 7 days old and before any paperwork is signed. Two puppies constitutes a litter. If bitch is not pregnant, no additional fee is charged..
"Neptune" is an exciting mature boy with an over abundance of desire! He has tremendous prey drive and pounds the ground hard when he runs. His field training is going well and he has the Junior Hunter title. He good with doubles and triples hunting and handling well on land and water blinds. Nep has three legs towards his Senior Hunter title and is a seasoned hunting dog. Neptune is a solid built dog with beautiful front and rear angles, great temperament and tons of drive in the field. He resides in Minnesota and hunts upland and water birds.
Puppies sired by Neptune

11-17-17 mother of puppies: CBISS, Am GCHB*, Can CH* Redlionís For What It's Worth, JH
Two female Puppies at 11 weeks old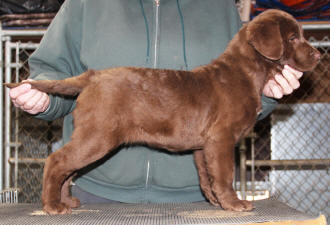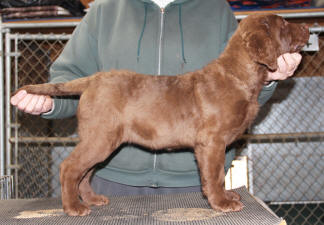 Accomplishments

Hunt Tests
6-12-16 Neptune just completed his 4th leg for his Junior Hunter title
8-6-16 Duluth Retriever Club - MN 1st Senior leg
8-20-16 Island View Retriever Club - WI 2nd Senior leg
8-28-16 Northern Flight Hunt Test - MN 3rd Senior Hunter leg
Shows
10-21-16 Gloucester Co Kennel Club WD and Best of Winners 3 point major
10-22-16 Gloucester Co KC WD and Best of Winners 4 point major
10-23-16 South Jersey KC Winners Dog 1 pt
11-13-16 Mispillion KC WD 1 pt
11-19-16 Kennel Club of Philadelphia ACC Supported Show Reserve Winners Dog
5-7-17 Trenton KC ACC Supported Show Winners Dog 4 pts
5-8-17 Trenton KC ACC Supported Show Winners Dog/Best of Winners 1 pt
5-28-17 Plainfield KC WD, BW, Best of Breed 1 pt New Champion