<![if !vml]><![endif]>

Special TV Show!

WYLN TV Launching New OUTDOOR SHOW
Featuring VETERANS OF WAR called.....

"Warrior Summit Outdoors TM"

http://www.couragehealsthesoul.com/


Press Release: Hazleton, PA: 4/30/14
Shortly after Memorial Day Weekend, WYLN TV based in Hazleton, PA will be launching a new kind of outdoor show. The program is called Warrior Summit Outdoors TM and will air all over WYLN TV's expansive market in northeastern PA—over 200,000 households will be reached. SSG Erik Olson, Retired, a decorated three-tour combat veteran (two tours Iraq and one in Afghanistan), recipient of the Bronze Star with Valor and multiple Purple Hearts among his commendations, is the show's executive producer and host. Olson has sustained six traumatic hits in combat from enemy fire over the course of his three tours of duty and is an alumni of the Wounded Warrior Project, continuing to recover from his combat injuries today.
Each month Olson, accompanied by his lovable, entertaining year old Labrador Retriever, Redlion's Sergeant Black Ops (aka "Sarge" The Dog), will take other veterans out on various outdoor adventures (hunting, fishing, off-roading, etc.) to help them heal from the visible and often invisible wounds of war.The program will address serious topics as related to veterans coping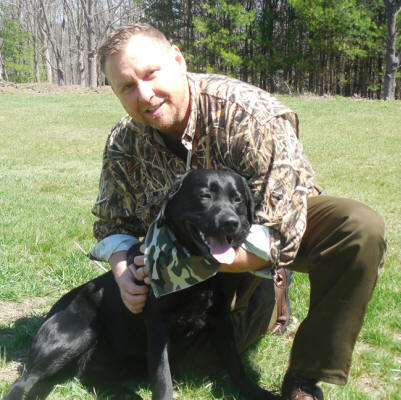 with life post-combat, but it will also demonstrate that veterans can heal, with the help of the community, organizations and activities in the great outdoors. The show will be informative and entertaining, with much humor infused throughout as the veterans laugh and enjoy some hard-earned outdoor fun. The program is already getting tremendous support within the veteran community and has numerous ties to both local and national organizations, causes and businesses supporting our veterans and the great outdoors. View a video from the Gary Sinise Foundation
Business Development Director for WYLN TV, Tiffany Cloud (also wife of the show's host; President of Warrior Summit Outdoors LLC; co-executive producer of the show; and author of the Oct 2012 www.Amazon.com military bio bestselling memoir SLEEPING WITH DOG TAGS) wanted to bring this new show to the region in conjunction with her husband to help educate the community about ways activities can help warriors returned from combat, including those suffering from Post Traumatic Stress Disorder (PTSD), an often misunderstood effect of war.
"In the news, there is too little coverage and understanding about PTSD. We need education about it; the stigma must be quashed. Our returned veterans are brave warriors and often when they get home, they are not sure how to operate in the 'new normal' that is civilian life. Only those who have endured combat and its after-effects can truly understand what war does to a person, so those of us who have not served this nation in the military (the majority of the country) must do more to educate ourselves as to how to better support the veteran community once returned to the home front. We must stand for those who stand before bullets, else we stand for nothing. I am so pleased WYLN TV and Service Electric Cablevision are helping make this dream to support our returned veterans a reality. This show is unique to television in that it's hosted by a combat veteran and has veterans joining him on activities to heal from war—we are bringing something new and much needed to television."
SSG Erik Olson, show host and CEO of Warrior Summit Outdoors LLC, prefers not to discuss many specifics regarding his time in combat publicly, however, he elected to do this show as a way to help others understand what he and others endure after war:
"Not only is this program meant to open the eyes of the public as to what our veterans go through following combat, it is actually helping me heal my own invisible wounds of war. Every day I'm outdoors, hunting, fishing, hiking…talking with other veterans as we walk through the woods and trek through the mud…every time we sit down over a nice plate of venison (preferably from our own hunting excursion), I am healing myself. When we are in combat, we look out for our brothers to the left and right. When we get home, we need to do the same for one another—our brothers and sisters who have served for us. I hope this program will help the general population better understand veterans of war are not looking for pity…we are looking for support and patience as we move on to the next chapter of our lives."
Olson will be making appearances on WYLN TV 35 and in the community throughout the month of May to begin promoting Warrior Summit Outdoors TM. WYLN TV 35 can be viewed in the Hazleton and Mahanoy Area on Service Electric Cablevision dial position 7, Service Electric Communications Wilkes-Barre dial position 7, in Berwick, Weatherly and Schuykill Areas Cable dial position 7 and on Shen Heights Cable TV dial position 15. In addition, Warrior Summit Outdoors TM will be available in the Lehigh Valley Area on Service Electric Cable TV and Communications. The first episodes are currently in production with anticipated launch in June.
Press Questions / Inquiries: Contact Barry Jais, General Manager, WYLN TV (570) 956 5772
To Interview SSG Erik Olson about Warrior Summit Outdoors TM on WYLN TV: Email requests: sleepingwithdogtags@gmail.com
Advertisers / Interested Sponsors Contact: Tiffany Cloud, Business Development Director, WYLN TV
President Warrior Summit Outdoors LLC sleepingwithdogtags@gmail.com
Click for website: Warrior Summitt Outdoors