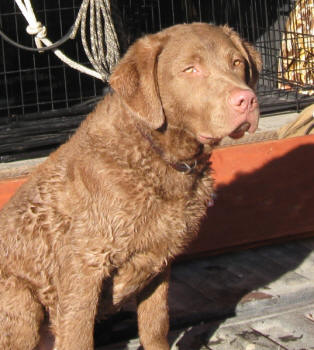 Redlion Kennel is located in Southampton, New Jersey, one hour east of Philadelphia in southern NJ. We are a NJ breeder offering Chesapeake Bay Retriever and Labrador puppies bred to the breed standards. Our goal is to produce a good looking dog that possesses trainability and natural retrieving instincts for hunting, show, field competition and great family companions.

Redlion Chesapeakes have long been known as a dual-purpose dog. Many dogs produced by our breeding stock or stud dogs compete in shows all over the country and have been ranked many times in the top 10
dogs in the US. Most are stocky, dependable hunters and great companions while others compete in hunt tests, shows and performance events. Many of the dogs compete in more than one venue at the same time.

The Redlion Labradors are a combined effort of field trial breeding with some bred to Champion and Best in Show Labs with natural retrieving desire. I believe in a Dual-Purpose retriever and strive to prove that in today's Labrador.
On this site you will enjoy many pages of photos, lots of tips for training, information for reading about dog health issues, records of our accomplishments and you may view photos and stats on upcoming litters and stud dogs. We want you to be an informed buyer or owner so you may enjoy many productive years with your new companion.
View Photos of Redlion Kennel and my home - see where our dogs live and play

Click here for current Puppies For Sale and older dogs available!


FOR SALE: Field Trained Black Lab Female, "Kelly"
22 months old. Does double retrieves and handing for blind retrieves for hunting. She has been through basics with a Pro Trainer except for swim-bys. Her sire is Barb Radtke's Field Champion "Ten". Kelly is located in western Maryland.This is a very active girl bred for hunting and is not a quite family dog just for a pet for small children. Serious hunting inquiries only please. Thanks
Price: $3000
Email me for info: nofleas24@gmail.com

FOR SALE: Trained Gun Dog, Chesapeake Male, neutered, almost 3 yr old, tall, about 89 lbs. Available for hunting and ready for Senior Hunt Test competition. With continued training could do Master Hunt Tests. Professionally trained for a year by Eddie Rodriguez. He does triples, land and water blinds with birds, steady and has been shot over in training. Dog located In Ochlocknee, GA. He has been socialized but needs a firm hand and continued socializing

Parents have health certifications. Serious inquiries only please. Contact Eddie Rodriguez (786) 367-2334 Sire: GCH Taykemehome Full Steam Ahead Dam: GCH Whispering Oak Mystic River JH DM.

Price: $5500 serious inquiries only direct to Eddie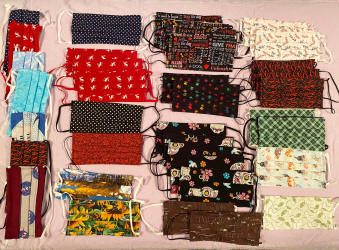 For Sale: HOME-MADE MASKS

Stitched by my friend Christina, Marlton, NJ. Nice sturdy material, can send your own material also. Loops for ears or over/behind the head. $8 per mask and $2 shipping for one mask. Shipping priority mail for bulk orders is $8 shipping.
Contact: Christina
Updates on our website - view the Vet Care page - see a list of local Vets we use

Are you a Turkey Hunter????? Visit Ron Clough's home page.... see his specialty Turkey Calls and Books....
Be sure to visit the FREE Information & Helpful Articles Pages and the Links Page
Lots of new titles for the dogs.... view the News Page!
| | |
| --- | --- |
| Redlion Kennel feeds "Verus" Holistic Dog Food | |

Also visit Redlion Photography and Redlion Webdesign
Jane Pappler - 7 Easton Way, Southampton, NJ, 08088 - 609 859-3570 - nofleas24@gmail.com
Do NOT call the cell phone unless it is an Emergency and no texting.
Copyright © Redlion Kennels est 1977, Website from 1998 till present. All Rights Reserved.
Use of any contents or pictures of this website is forbidden without the written consent of Jane Pappler