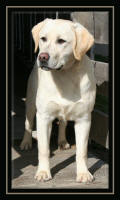 Redlion Labradors was established in 1995 with the purchase of my first black lab, Wannamaker's Wiley Willy. He was a stocky, well-bred field trial contender, a house pet and a real character! I trained and ran him in licensed field trials in the US and Canada for several years. He had 14 Canadian Open Points, just needing a Win for his Canadian Field Trial Championship and was Qualified All-age in the US.
Next I purchased three black females, Rob Shar's Hot Salsa, her daughter Cinque's Reckless Ambition, and Bag of Tricks. All these girls had tremendous field desire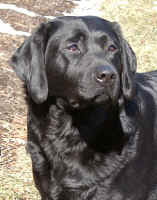 and a willingness to please. I then purchased a small talented 3 year old male, Homeboy's Jazz. He became the backbone of my field-bred Labradors. In 1999, with only 2 1/2 years of training, "Homie" become a Canadian Field Trial Champion and was a Finalist that year at the Canadian National Open. Either the Field Title or completing the National Open would have been an ultimate Goal but to have both was VERY exciting and rewarding! I had both black and yellows bitches sired by Homie. I crossed my field bred lab bitches with quality show Champions and Best in Show Labs, working towards a Dual-Purpose dog, the ultimate goal for any retriever breeder. I hope to produce Labradors with good breed quality and conformation, clear health credentials and natural retrieving ability for hunting and field competition. - the Dual-Purpose Labrador Retriever.
All dogs have hip and eye evaluations and my breeding stock has been PRA tested and puppies are guaranteed never to have this blinding eye disease. The Labrador breed has an excellent temperament and makes a great family dog, hunting companion and field competitor. The Labs I breed are very active, within the breed standard, alert, and easily trained. If you're only looking for a chunky quiet couch-potato that's not my dogs! They do well in obedience, agility, hunt test competition or fit right in for hunting and a family companion.
Below are pictures of some of my dogs and puppies that have been produced by my kennel or from my stud dogs. Thanks for your interest in my Labradors.