Chesapeake Bay Retriever
CH Redlion's Winston Churchill, JH

OFA EYE1642/2022-24, PRA carrier, Long Coat Carrier, clear for DM, EIC, EDSF, AKC# SS22017602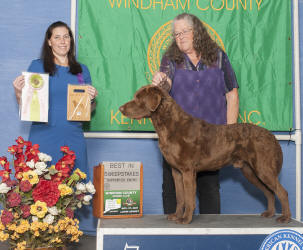 -

Sire: AM/Can CH Redlion's Come Back Barret*** QAA, TDX, JH, DS
Dam: Mtn Island Redlion Texas Toast
Breeder/Owner: Jane Pappler
View and Print Winston's Pedigree

Fee: $1700 A deposit of $400 is due at time of breeding and balance of the stud fee when the puppy(s) are 7 days old and before any paperwork is signed. Two puppies constitutes a litter. If bitch is not pregnant, no additional fee is charged.
Winston has a ton of drive for retrieving and runs hard. He has the first 2 legs towards his Junior Hunter title. Winston is training with Lois Munroe and will run additional Hunt tests this summer and starting in August will run Field Trial Derby tests. He is not 2 yrs until November, 2022. He has a tremendously successful pedigree in both Field Trial and Show. Winston is a true dual-purpose retriever with a very bright future.

Accomplishments

US Shows
11-27-21 Springfield KC, MA ACC Supported Show, Best in Sweeps and Reserve Winners Dog
10-22-22 Gloucester CO KC WD/BW 1 pt
11-17-22 Penn Treaty KC WD/BW 3 pts
11-20-22 Kennel Club of Philadelphia 1 pt
11-27-22 Catoctin KC, MD WD, BOS over one special 3 pts
12-4-22 Chesapeake KC of Maryland National Capital CBR Supported Show Winners Dog, Best of Winners 5 pts
12-10-22 Valley Forge KC WD, BW 3 pts NEW CHAMPION
12-11-22 Valley Forge KC Select Dog
Hunt Tests
3-26-22 Fall Line RC of Georgia JH leg Handler/Lois Munroe
3-27-22 Fall Line RC of Georgia 2nd JH leg Handler/Lois Munroe
6-18-22 Shoreline RC, CT 3rd JH leg Handler/Lois Munroe
6-26-22 Maine Retriever Trial Club 4th JH leg Handler/Lois Munroe NEW JH Title